05/06/2022  TO 13/06/2022      07/06/2022  TO 15/06/2022            
15/06/2022  TO  23/06/2022     21/06/2022  TO 29/06/2022    
23/06/2022  TO  01/06/2022 
01/07/2022  TO 10/07/2022      04/07/2022  TO 12/07/2022     
11/07/2022  TO 19/07/2022       13/07/2022  TO  21/07/2022     
21/07/2022   TO  29/07/2022     23/07/2022  TO  31/07/2022
 01/07/2022  TO 10/07/2022      04/07/2022  TO  12/07/2022    
  11/07/2022  TO  19/07/2022   13/07/2022  TO  21/07/2022   
   21/07/2022   TO  29/07/2022     23/07/2022  TO  31/07/2022
01/07/2022  TO  10/07/2022      04/07/2022  TO  12/07/2022     
 11/07/2022  TO  19/07/2022    13/07/2022  TO  21/07/2022     
21/07/2022    TO  29/07/2022     23/07/2022  TO  31/07/2022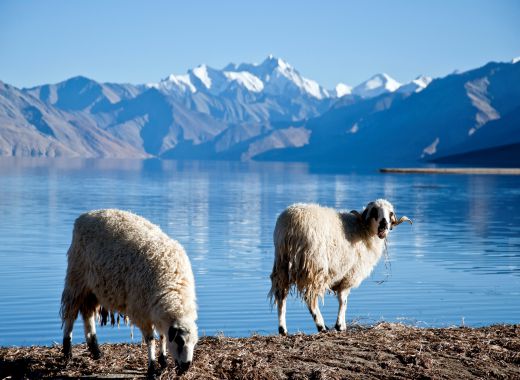 THING TO SEE IN YOUR TOUR LEH PALACE ,SHANTI STUPA,  , THIKSEY, KHARDUNGLA, NUBRA,  TURTUK ,PANGONG HANLE,TSOMMORIRI LAKE  MAGNETIC HILL, PATHAR SAHIB GURUDWARA, , CONFLUENCE OF THE ZANSKAR AND INDUS RIVERS, HALL OF FAME, KARGIL WAR MUSEUM AND ALCHI ,

Duration

Starting price

Tours Types
PRIVATE TOURS,GROUP TOUR,AND FIX DEPARTURE GROUP TOUR
Day 1: ARRIVAL AT LEH
Arrival at Leh airport and transfer to the hotel, Spend the rest of the day at leisure to acclimatize to the high altitude. In the evening around 4 pm  we will  visit Leh palace ,Leh market & Shanti Stupa for a sun set  Overnight at hotel in Leh.
Day 2: EXCURSION TO THE WEST OF LADAKH ( SHAM VALLEY) (150 KM ROUND TRIP)
After breakfast, we will visit the popular Alchi monastery; well-known for its 1000 AD Indian style Buddha paintings. One of the oldest monasteries in the region, on the way back to Leh, the journey takes us through the "Magnetic hill" that is located about 30 km from Leh, at a height of 14,000 feet above sea level. Here you can see the rare wonder of your vehicle going upwards on its own at a speed with the engines off. And you can also visit Hall of fame (A kargile war museum)   Overnight stay at Hotel/Guesthouse in Leh.
Day 3: LEH TO NUBRA VALLEY  VIA KHARDONG LA (WORLD'S HIGHEST MOTORABLE ROAD) (140 KM / 5 – 6 HOURS)
Today we will drive towards nubra valley on the way to nubravelley we are going to cross highest motor able road in the world.  Khardung La pass offers incredible views of the valley and the roads zigzag up the mountain, after crossing khardung la pass we are entering to famous nubra valley which is also knows as valley of flower In nubra valley we visit a Disket monastery which is famous for 35 metre statue of Maitreya Buddha and disket monastery is a oldest and largest Buddhist monastery. After visiting disket monastery we continues our journey towards Turtuk Valley, Turtuk is known as valley of Apricot and  Turtuk lies in the Baltistan Region and is one among three such villages in India. Turtuk was under Pakistan's control until 1971, overnight stay at turuk in camp or hotel
Day 4:  TURTUK TO NUBRA
After breakfast process to nubra from same route we came,  In the evening we will visit hundur sand dune for sunset and enjoying the double hump camel safari at sand dune, overnight stay at Hundur
Day 5: NUBRA VALLEY TO PANGONG LAKE VIA SHAYOK VALLEY
After breakfast we will more towards Pangong Lake via Shayok Valley ,Drive alone with Shoyak River we reach Pangong Lake. The place where the Bollywood film '3 Idiots' was shot!!  Pangong Lake is an endorsees lake in the Himalayas situated at a height of about 4,350 m. Pangong Tso is geographically situated in a disputed territory, claimed both by India and China, overnight at Pangong Lake in camp
Day 6: PANGONG LAKE TO HANLE
Early in the morning after breakfast we will more toward hanle  viatseka la pass it is a longest and off road Drive of our trip. Hanle extremely close to Indo-China border, Hanle is the peaceful area of Ladakh and its home to the  Indian Astronomical Observatory It is currently the site for the second highest optical telescope in the world, situated at an altitude of 4,500 meters overnight stay at guest House in Hanle
DAY 7: HANLE TO TSOMORIRI (470KM ROUND TRIP)
After breakfast drive to Tsomoriri Lake, On our way towards Tsomoriri, there are full of natural Landscapes which includes beautiful small lakes on the way. Tsomori-ri is the Biggest Salty water Lake which has no exit Tso-moriri Lake is surrounded by barren hills, with the backdrop of beautiful snow-covered mountains that is situated at an altitude of 4511m above sea level. This lake is one of the most serene and beautiful lake in the world. Overnight stay in Camp.
DAY 8: TSOMMORIRI LAKE TO LEH VIA TSOKAR LAKE
After breakfast drive to Tsokar Lake, Tsokar is also knows as white lake because white salt of the water deposits all over the lake shores. The area surrounding Tso-kar lake is rich with wildlife and birds. A Lake  is situated at an altitude of 4530m above sea level . Drive back to Leh via Taklang la pass (Second highest motor able road in the world), Overnight stay at Hotel/Guesthouse in Leh.
Day 9: DEPARTURE
Early morning drive to airport for onward journey to Delhi with memories of a lifetime!
Accommodation for 8 night on double
Permit to Nubravalley,turtuk, base camp and Pangong lake
Oxygen cylinder in emergency
Breakfast and Dinner
Airport Pickup and Drop
Transportation to all the places which mentioned above itinerary
Any kind of food and beverages that are not Mentioned like Alcohol, meals refreshment and lunch While travelling
Any personnel expenses like tip entry fee photography/ Videography charge and any kind of activities on the tour
Any costing arising due to natural calamities like landslides Roadblock etc. to be paid by customer.
Travel insurance
GST 5%
Any things which not mention above
PRIVATE TOURS , GROUP TOUR  AND FIX DEPARTURE GROUP TOUR
FOR 2 PAX RS- 82600 
FOR GROUP 4 PAX RS- 29500       
FOR GROUP 6 PAX RS -24000
FOR GROUP ABOVE 8 PAX RS -22000